A baby nutrition company has recalled five batches of its infant formula due to the possibility of bacterial contamination.
ByHeart announced that it has voluntarily recalled five batches of ByHeart Whole Nutrition Infant Formula due to the potential for cross-contamination with Cronobacter sakazakii.
The product being recalled is the ByHeart Whole Nutrition Infant Formula, Milk Based Powder with Iron for 0-12 Months in 24 oz containers.
The formula was distributed directly to consumers in the U.S. and can be identified by the number on the bottom of the can. The recalled product batches are 22273 C1, 22276 C1, 22277 C1, 22278 C1, and 22280 C1 printed with use by 01 JAN 24 or 01JUL 24.
No distributed product has tested positive for the bacteria, the company said, but the decision to recall was made out of an abundance of caution.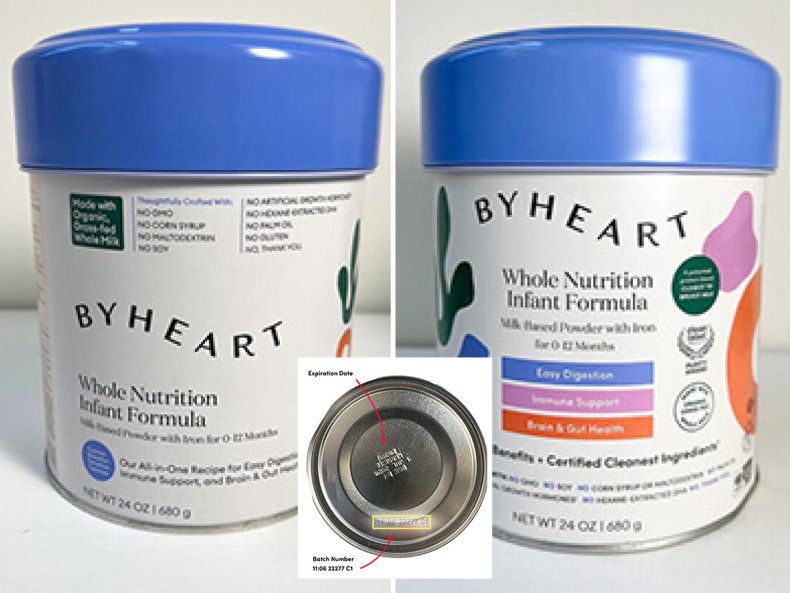 "It is important to note that this recall is not related to ByHeart's own manufacturing in any way," the company said in its recall notice. "In addition, the company has not received any consumer complaints that would indicate any illness, to date; illness complaints are an early detection of safety concerns."
In the recall notice, ByHeart said it owns its entire manufacturing supply chain except for final canning "which is conducted by a reputable third-party packager."
The company said the decision to recall was made because a test sample collected from the packing facility tested positive for Cronobacter sakazakii.
All product packaged that day, and the first production on the next day, was isolated for destruction and not distributed, the company said. "Out of an abundance of caution, we are now recalling all product produced during the entire production run," it said.
Customers who purchased ByHeart products should check the bottom of the infant formula can and dispose of product from the called batches.
There is no need for concern if a baby has already consumed all of the formula, and no additional action is needed, the company said. However, if parents have any questions, they should consult with their pediatrician.
It comes after the closure of a Michigan plant run by Abbott—the largest domestic manufacturer of baby formula—combined with a safety recall of products sparked a nationwide shortage in the U.S. Abbott recalled several brands of powdered formula and closed the plant after federal officials began investigating four babies who suffered bacterial infections after consuming formula from the facility.
In a statement on its website, ByHeart said its manufacturing facility in Reading, Pennsylvania, continues to operate 24/7 to provide formula for January 2023.
"In the meantime, our priority is to make sure all customers have what they need to keep their babies fed and healthy, no matter what brand of formula they use," the company said.
The company said it would cover the cost of two cans of alternate formula while it works to meet the demand, and affected customers will receive two cans of their next order of ByHeart Whole Nutrition Formula for free.
Customers can visit ByHeart's webpage for additional information about its measures or email [email protected] or text ByHeart at 1-909-506-2354. The company will also be reaching out directly to all customers via email who purchased orders from the recalled batches.