The parent who labels their kids' lunch boxes and water bottles is the parent who can change the world—or, at least, their world. For a one-time, nominal cost, labels can bring needed organization to cluttered corners of the kitchen, help your kid and their teacher spot objects with ease, and ensure that often-pricey goods don't end up in the lost and found.
After sticking, washing, and wearing down 11 kinds of printed labels and one write-on label, we found that Name Bubbles Custom School Supply Labels are the best printed labels to put on kids gear while Avery No-Iron Fabric Labels are the best for kids clothes.
Our pick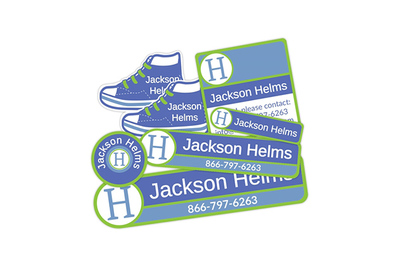 These easy-to-design labels are durable: In our tests, they showed no signs of wear or tear after 60-plus washes. But like other labels of this type, they're not the best choice to stick directly on clothing.
Name Bubbles labels are fun to design, easy to apply, and the sturdiest of the labels we tested. Adhered to metal bento boxes, plastic lunch boxes, plastic water bottles, and folders, they don't peel or deteriorate. The labels are sold in packs of different shapes and sizes, offering a nice assortment depending on what you're looking to label. While Name Bubbles does make labels specifically intended for clothing, we recommend going with the cheaper Avery No-Iron Fabric Labels, our also-great choice, if you need to label clothes and reserving the waterproof name labels for hard-surface items.
Runner-up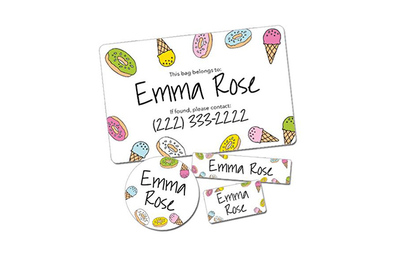 These labels are well designed and don't unstick. The ordering process and packaging are a little less polished in comparison with Name Bubbles, but the product itself is pretty much the same.
Label Daddy uses the same adhesive in its labels as Name Bubbles, and its label pack comes close in almost every way to our top pick. The design options and ordering experience are straightforward, though at times the Label Daddy website can feel overwhelming, especially if you're starting from scratch. (It has so many options!) Once you make your way to your choice, you can't go wrong: Label Daddy's labels stuck just as well as those of Name Bubbles.
Also great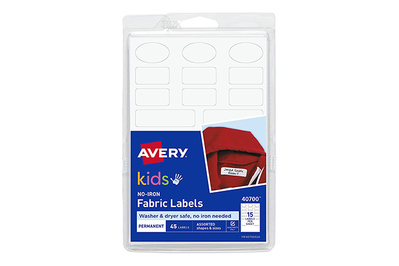 These write-on labels are perfect for identifying clothes: They stick on collars, tags, and even rougher fabrics, and they don't budge or smudge.
Avery's No-Iron Fabric Labels may not bring the same immediate joy as a personalized label with unicorns and rainbows, but maybe they should. The most affordable of the options we've tested, these fabric labels stick to clothes (tags and the fabric itself), and they also adhere to lunch boxes and water bottles as well as any printed label we tested. Yes, a Sharpie is required to bring them to life, but in the end they get the job done for a low price.